Things you need for a lobster bake. If you are having a clambake, you likely will serve lobster also. Around here we say we are having a clambake which implies we are having lobster in addition to steamers (the clams).
You can go all out and have it catered with white linen tablecloths or you can have a simple backyard party or if you are lucky, right on the beach. I write about old fashioned New England meals frequently because for me it means happy times. My mother was always having friends and family over on Sunday afternoons and often Saturday and Sunday evenings all through the year. But especially festive was her 4th of July party which encompassed eating from noon to night. Because it evokes such warm memories, I offer party goods, cookout, barbecue and lobster products in my store. I really want everyone to have the same type of fun that remember. I pay homage to Bizzy too, a friend who made it her life's work to have a grand extravaganza for the Fourth of July with party favors over the top.
il PIccolo Giardino's board Lobster Festival on Pinterest for accumulated ideas.
You can start with
clam fritters
, a great appetizer to have for such a summer event. The recipe is from a 1940's cookbook and one my Mom used to make these on the 4th of July.
It is nice to have a gingham tablecloth for a regular picnic table, but any easy clean tablecloth will do if you opted for the backyard event.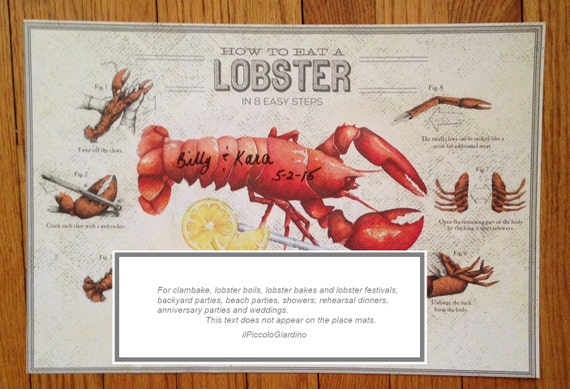 For the rest of the menu, simple summer fare.
How about
Lobster Chowder?
A really old recipe from the late 1800s.
Or you can make the authentic New England Clam Chowder. There are so many variations and schools
For steamers, have cups for the broth and melted butter. Have to have the melted butter.
Some ways to serve your lobster, one recipe is a bit on the graphic side on how to prepare,
lobster besides boiling.
These are really neat if you are having a special event and would like personalized.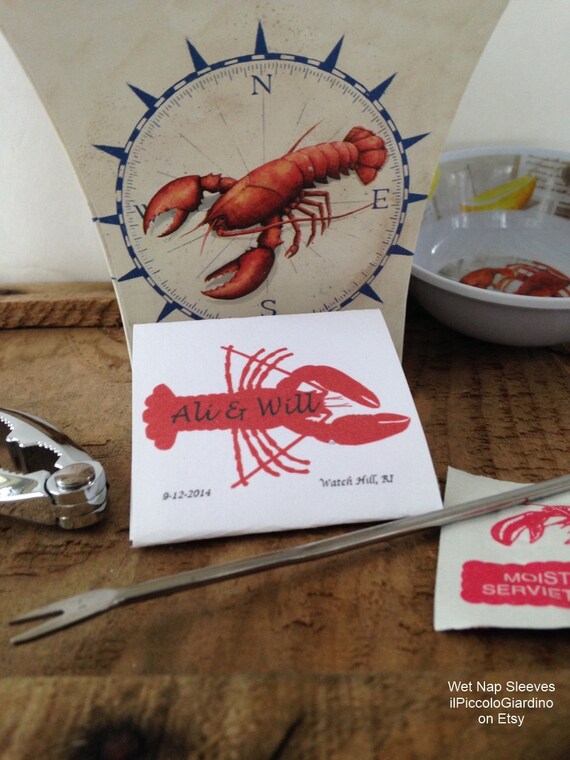 Placemats that are disposable with directions on
how to eat the lobster
and
lobster bibs
are handy
for everyone, evened seasoned veteran eaters. A fun party favor that is useful is
the lobster placemat created into a fan, as it is always hot during these summer events.
Don't forget to Keep Calm and Eat Lobster
More great lobster theme ideas for your lobster or clam bake at
ilPiccoloGiardino on Etsy.
Personalized lobster bibs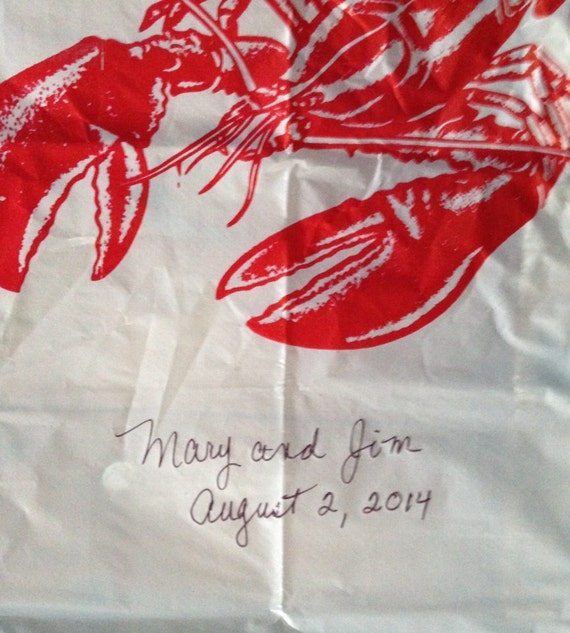 Enjoy and be safe.